Keys to a Fun Corporate Event
Many on the outside looking in don't realize how much work goes into corporate event planning. The job can be stressful and overwhelming at times, but the process can be made so simple with one fantastic idea to get the ball rolling. Planning the food and activities are the two stress points for putting together any fun corporate event, so here are a few pointers to help event planners get over the planning hump.
Planning Made Easy
Catering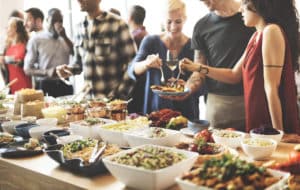 Food is one of the bigger takeaways from any corporate outing. After the event, a lot of people will talk about their lasting impressions on the food. This makes getting the menu perfected exceptionally important in planning a fun corporate event. Here are a few tips to note when ordering the food for your event:
Start simple. Some people are picky eaters and want to eat comfort food when they go out.
Consider allergies. The obvious allergen to be conscious of is anything peanut-based. Additionally, keep in mind that some of your attendees might have celiac disease, which limits them to a strict gluten-free diet. If you have a smaller group, you might want to ask if anyone has any dietary restrictions.
Be adventurous. While you do want to have a few safe options to please everyone, don't be afraid to have a few bold options available for a more memorable menu.
Match the event. Food that doesn't require utensils is appropriate for casual team building events such as going to an escape room in Atlanta. More formal outings should call for a more formal menu.
Planning Activities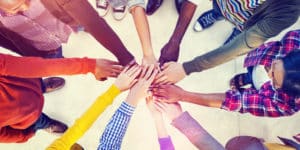 For a fun corporate event, you should plan activities that will make the outing successful and worthwhile. Common or run-of-the-mill activities such as bowling might not be a hit with your attendees. Though these types of activities are popular, they are overused, lack constructive qualities, and might not make for a large turnout; since they lack uniqueness and enticement, steer clear of such activities. You're not planning an event just for the sake of it; you'll want to plan an event that is a captivating, worthwhile investment for your team―one that improves the workplace. By planning a corporate event at Paranoia Quest, you can expect to get the following out of the event.
Team building. Unlike at conventional corporate events, your team will truly benefit from visiting an escape room in Atlanta. As your team tries to escape Paranoia Quest's immersive rooms, they'll naturally fall into roles that are best for the team. You'll find out who your natural leaders are, who your detailed workers are, and who your communicators are. What you'll learn while escaping can be transferred to the workplace after the event.
Creativity. Escape rooms force you to put your heads together to find the unexpected solution to a problem. Your team has to think outside the box to escape, which is an exciting and clever challenge for attendees. Being pushed out of your comfort zone inspires creativity that can be applied to the workplace.
Critical thinking. The puzzle-solving nature of escape rooms will encourage the attendees to work as a team to achieve a common goal.
Book Your Room Today!
Paranoia Quest is the ideal venue for a fun corporate event. Is your team ready to take on the challenge? Our escape rooms are one-of-a-kind, require critical thinking, and are great for team building events. Contact Paranoia Quest today at 678-828-4410 for out Atlanta location or 678-288-6555 for our Buford location. You can always book a time on our website; click here to book a room in Atlanta or click here to book a room in Buford. Connect with us on Facebook to stay up-to-date on new escape rooms and more.