Celebrate The Special Day with an Escape Room in Atlanta
Birthdays comes once a year! Whether you're excited or dreading that extra year of wisdom, you want it to be fun. It may even be a friend's! Either way, each year's celebration should be better than the last. That's why it's great to change it up! There are plenty of ways to jazz up your birthday celebration, but nothing beats an Escape Room In Atlanta.  
How To Make Your Birthday Memorable With An Escape Room In Atlanta 
While your party location should be an Escape Room In Atlanta, there are other things to consider when planning the party. Enjoying the party is half the fun. You must have a game plan in place to ensure it's the best of the best. Here are a few tips on how this Escape Room In Atlanta can help you prepare for your birthday party.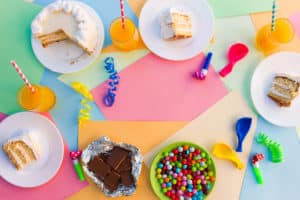 Grub – A memorable party is incomplete without killer food. It's your party and you can chow down how you want to. This can be catering to your home or eating locally before heading into an Escape Room In Atlanta. 

 

Theme – Finding the right theme for your birthday is crucial. It sets the whole tone of the celebration! Seeing as Halloween is fast approaching, tapping into your favorite characters is not a bad idea. 

 

Budget – Planning a birthday celebration can get pricey if not planned carefully. With Paranoia Quest's Escape Rooms being reasonably priced, that's one less thing to worry with. Making sure you itemize your gift bags, decorations and eating is the best way to stop on top of your birthday budget. 

 
Tapping Into The Birthday Fun With An Escape Room In Atlanta
Now that you're prepared, it's time to choose your birthday party Escape Room In Atlanta experience! Here's what you can tap into:  
Zombies – We offer Zombie Apocalypse and even a Live Zombie Experience for those party goers wanting to tap into the Halloween spirit. There's nothing like a spooky party! 

 

Investigative – Solving crimes and escaping in the nick of time, that's what this Escape Room In Atlanta is all about. This mysterious experience helps you dive deep into your detective skills. 

 

Jail Break – In this Escape Room In Atlanta, you have been accidentally arrested. Can you use your skills to escape in time? 

 
Paranoia Quest The Ultimate Birthday Escape Room In Atlanta For Your Birthday Celebration 
The Birthday Person Get's  FREE Ticket! It usually doesn't get any better than this but, with Paranoia Quest we do our best.
Your birthday becomes an adventure, memorable for years to come. Paranoia Quest offers unique Escape Room In Atlanta experiences for you and your friends on your birthday. It's not only a great way to change up average birthday, but an even better way to build a long-lasting impression on your employees. Book a time by contacting Paranoia Quest today at 678-828-4410. You can always book a time on our website; click here to book a room. Connect with us on Facebook to stay up-to-date on new escape rooms and more!